How to deposit in mobile version

To make a deposit you should register in the website first.
By entering username and password you will enter to your account.
Touch "Cashier" then "Deposit" and choose a payment method.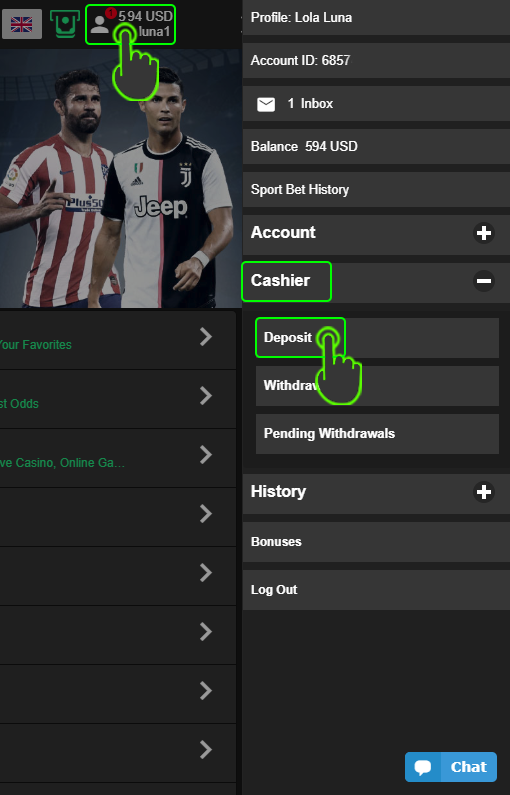 As you see in the following image, the aproximate time
and transaction expense for each deposit method has been shown.
Please consider the minimum and maximum amount of a deposit.



Depositing through Exchanger sites
This method is for those who do not have personal perfect money
or web money account.

Buying digital currency from exchanger presenting




Cannonbet account number:
In this method you may transfer money to an online exchanger simply
by making a bank transaction. By providing our web money or perfect
money account you may purchase the currency for our account.
You should fill "E-money Transfer" form and enter the "batch number" or
"order number" in the "Customer Notes" field.
Here we provide Information you may need to purchase digital currency:

Cannonbet Perfect money account number (to provide to the exchanger): U14341434
Cannonbet Web money account number (to present to exchanger):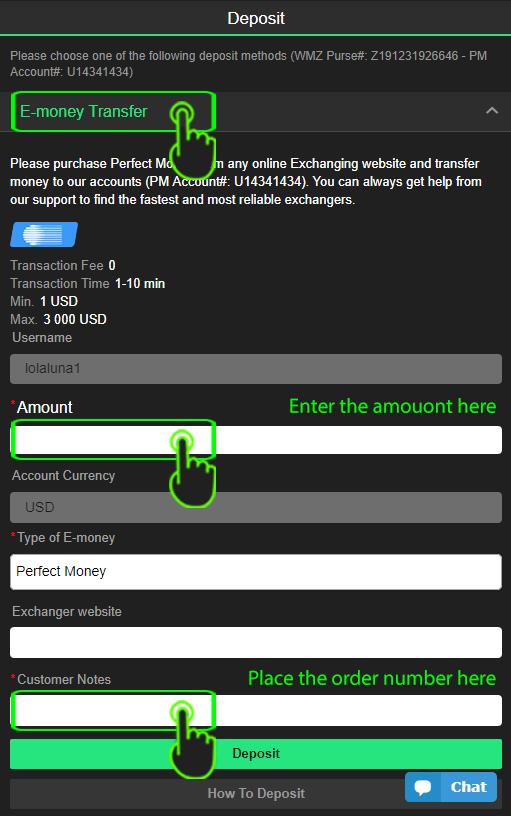 Please remember to enter the purchase amount according
to your account currency.
1. Buying Perfect Money Voucher or Webmoney Paymer:

In this method you should provide the Webmoney card number
to our support team and your account will be immediately charged.
In case of Perfect money, you have to enter the voucher codesas
it is explained in the following and your account will be recharged
automatically with the same amount. Please note that the mentioned
codes may be provided to different individuals by the exchangers.
Therefore, as soon as you purchase the currency please enter the
codes in the specified fields.
you may find many online exchangers by searching internet.
Some examples are as the following:
www.farhadexchange.com
www.exchanging.ir
www.pm4ir.com
www.iranianex.com
www.paybycashu.com (for purchasing card)
www.nasimrayaneh.com
Please note that by providing these examples Cannonbet is
not taking any responsibility regarding exchanger issues.
Depositing with personal Webmoney account:
If you have personal Webmoney account, you can simply transfer
an amount to the following account and recharge your Cannonbet account:
Cannonbet Webmoney account:
You should transfer the desired amount and inform our support
team and your account will be recharge accordingly.
Depositing with Perfect Money Voucher:
In order to recharge your account with this method, you have
to open perfect money field, fill in the voucher number and
activation code as it is shown in the picture:

Your account will be recharged automatically.
Depositing from Personal Perfect Money:
As the following image you should enter Perfect Money e-Wallet
and enter the desired amount and choose deposit checkbox.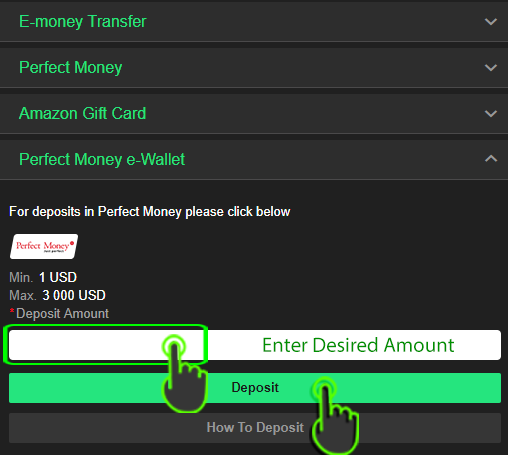 Cannonbet perfect money account: 14341434
After completing your purchase your account will be recharged automatically.